Introduction
For the estimated 11 million undocumented immigrants living in the United States, the vigorous national debate on immigration reform will determine their future—whether they are allowed to stay, work and become citizens. But the undocumented themselves are not the only ones whose lives will be profoundly affected.
Nationwide, an estimated 4.5 million children who are U.S. citizens by birth live in families where one or more of their parents are undocumented. These children will grow up to be our future family members, neighbors and co-workers–and their health and well-being as children today will translate into their health and well-being as adults, ultimately shaping the health of our communities.
However, these children and their families live with anxiety about the future, fearful that arrest, detention or deportation will tear their families apart. Anxiety and fear are only part of the damaging impacts of their families' precarious legal status. Children of the undocumented may also suffer from poverty, diminished access to food and health care, mental health and behavioral problems and limited educational opportunities—particularly when a parent is arrested and detained or deported.
An extensive body of research shows that these factors are fundamental determinants of child health today, and their adolescent and adult health in the future. Building on this research, this study provides further evidence that a continued policy of detention and deportation comes at the expense of health for children with undocumented parents.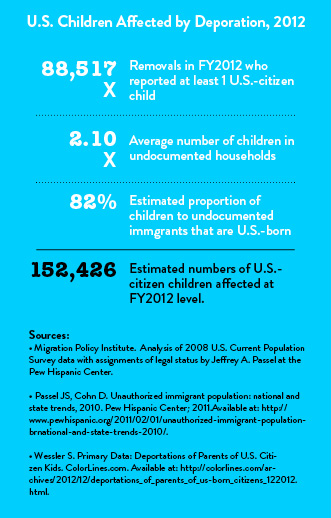 Findings
We highlight the consequences of the threat of detention and deportation for the physical and mental health of children and families. Additionally, we project that a continued policy of deportation at the level reported in 2012 would mean that hundreds of thousands of families will experience hardship in the coming years. In particular, children will sustain these impacts across multiple measures of mental health and well-being. If deportations remain at 2012 levels, we estimate annual impacts to include:

Poorer child health
Children of undocumented immigrants will continue to suffer from mental health issues, symptoms of post-traumatic stress disorder, lower use of health care than children of documented immigrants and reduced household income. An estimated 43,000 U.S.-citizen children will experience a decline in their health status after the change in household income associated with the absence of a primary earner. click here to see calculation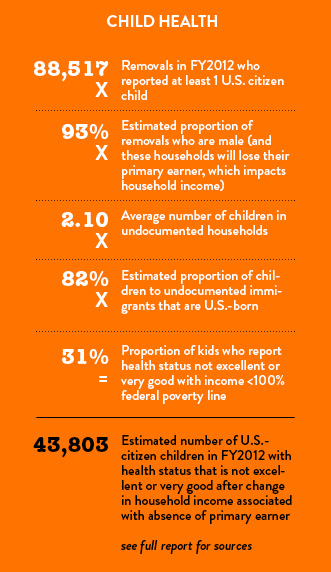 Poorer child behavioral outcomes
Children of undocumented immigrants will suffer behavioral problems, such as aggression, anxiety and withdrawal, which can lead to poor school performance and poor development. Approximately 100,000 U.S.-citizen children will show signs of withdrawal after a parent's arrest. click here to see calculation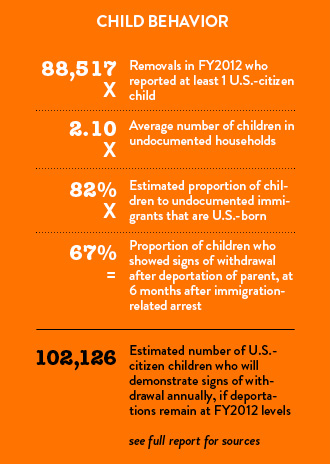 Poorer child educational outcomes
U.S.-citizen children who live in families under threat of detention or deportation will finish fewer years of school and face challenges focusing on their studies.

Poorer adult health and shorter lifespan
Almost 17,000 more undocumented parents of U.S.-citizen children will consider themselves in poor health because of the loss of income from a deported partner; a factor that is linked to shorter lifespan. Similarly, due to lost income, the estimated 83,000 partners who remain in the U.S. after a primary earner is deported will lose an average of 2.2 years of life – collectively a loss of more than 180,000 years of life. click here to see calculation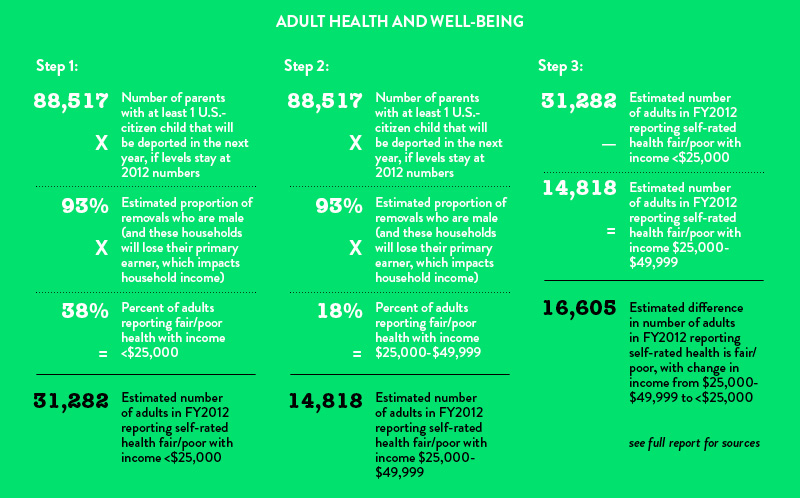 Higher rates of poverty
Median household income for undocumented immigrant households overall will drop to an estimated $15,400, putting them below the poverty line. More than 83,000 households will be at risk of poverty. click here to see calculation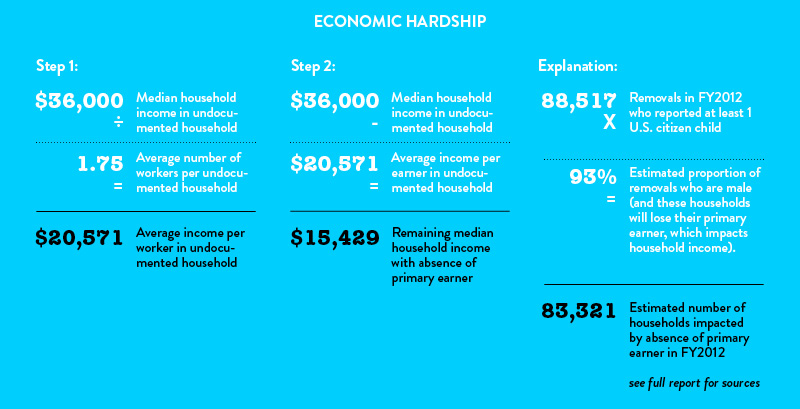 Diminished access to food
With the absence of their primary household earner, over 125,000 children will live in a food insufficient household. Without the support of food assistance, these children may experience hunger and malnutrition. click here to see calculation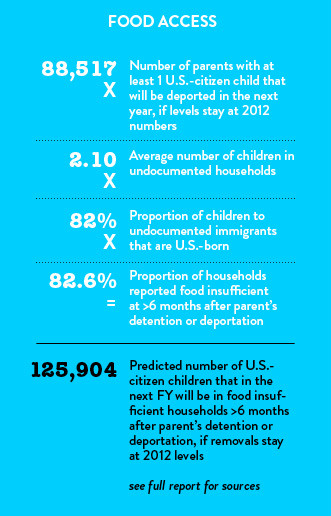 Focus group discussions with members of immigrant families and a survey of individuals living in mixed-status families supplemented the research. Findings showed that parents were deeply aware of how their legal status, and the threat of detention or deportation, affected their children:
Almost four in 10 children of undocumented parents did not see a doctor in the past year; almost three-fourths of the children of documented parents did. Research shows U.S.-born children of undocumented parents are twice as likely to lack health insurance as children born to citizens.
"Two years ago, Immigration [officials] came to look for someone in our house; someone who did not live [there]…it was very difficult impact that it caused for my children…my youngest son's performance in school suffered…[he became] fearful of everything, when somebody knocked on the door he would react in a very angry, nervous manner… he became constantly nervous, angry, he couldn't fall asleep, irritated…The manner in which Immigration came to my house was very unpleasant. They were using very strong language...One day [the children] will have to forget it, but I think that a lot of time will have to go by..."
Nearly 30 percent of undocumented parents reported that their children were afraid either all or most of the time, much higher than among children of documented parents. Nearly half reported that their child had been anxious, and almost three-fourths of undocumented parents reported that a child had shown symptoms of post-traumatic stress disorder.
Undocumented parents also experienced considerable impact on every indicator of mental health due to the threat of detention or deportation: stress, fearfulness, sadness, withdrawal and anger. Seven out of ten also reported driving less and eight out of ten said they were less willing to report a crime.
The cost of current policies also carries a staggering price tag: Last year the U.S. spent more than $1.2 billion to deport parents of U.S.-citizen children. This is money that could instead be spent on improving the health and well-being of families and children.
Conclusion
Our society professes to prize family values, but since 1998*, U.S. immigration enforcement policies have affected an estimated 660,000 or more U.S.- citizen children who had one or more parents deported. In April 2013, the U.S. Senate released the "Border Security, Economic Opportunity, and Immigration Modernization Act," (S.744) otherwise known as "comprehensive immigration reform." The proposal could reduce many health and mental health harms highlighted throughout our report – most specifically by creating a path to citizenship that may decrease the risk of detention and deportation for millions of individuals and their families.
However, there remain many opportunities to improve the health and well-being for these families. As policymakers debate the specifics of immigration reform, a proposal that puts family unity first is the best opportunity to turn around the harm caused by current policies. We propose a series of recommendations that can begin to address the root causes of poor health status among families with undocumented members–namely, the fear, stress and potential trauma experienced by families whose unity may be threatened due to their legal status.
Our recommendations both affirm aspects of the current immigration reform proposal that are health-promoting for these families, and describe opportunities to go even further by creating the long-term safety and stability that are necessary for health.
Immigration reform must not create a host of new, unintended consequences for the health of these already vulnerable people. Immigration reform that preserves and protects family unity will advance conditions essential to the health and well-being of millions nationwide, and ultimately to the well-being of our country as a whole.
* Based on our calculation using available ICE data from fiscal years 1998-2007, Q4 2010, 2011, and 2012. Data are not available for prior to fiscal years 1998, 2008, 2009, and Q1-Q3 2010, years of high numbers of removals.
Recommendations
1.
Ensure the "Border Security, Economic Opportunity, and Immigration Modernization Act" includes the following key components: read more
A direct, clear, expedient and affordable path to citizenship for all undocumented immigrants*, ending their risk of detention or deportation. We recommend a path to permanent residence and eventual citizenship over a legal status that stops short of citizenship. The latter would not create long-term stability for families, or result in the health benefits associated with such stability.

*Excluding those who pose a threat to national security

Financial requirements must be fair and include appropriate payment schedules that do not force families to choose between applying for legalization and other family needs. They must take into account the impact that fees and fines have on working families.

Elimination of mandatory detention laws that result in the arbitrary and unnecessary detention of parents and primary caregivers of U.S.-citizen children. The U.S. Department of Homeland Security should assess cases of detention on an individual, not blanket, basis.

Generous waiver provisions that recognize the importance of family unification. For principal applicants, bars to participation in the legalization program should generally be overcome in the interest of family unity. As is currently in the Senate proposal, for the previously deported parents of children who are citizens or permanent residents as well as for certain individuals who entered the U.S. as children, permit waivers should allow re-entry and a roadmap to citizenship for purposes of family unification and improved child well-being.

Allowing immigrants in the process of obtaining legal status to receive health insurance coverage and other means-tested public benefits after some designated and appropriate length of time.

Recognition that the health and well-being of children is often maintained by undocumented immigrant parents and other relatives who do not work outside the home or work in the underground economy. Consequently, consider revising the current work and income requirements in the proposal to be less rigid – specifically, by allowing applicants to submit alternate documentation of work history; allowing exceptions for the inability to work, health conditions and disabilities; and eliminating the Federal Poverty Level (FPL) income requirement as a threshold for eligibility.

As currently proposed in the Senate bill, modify current law to ensure that immigration judges are provided with the discretion to consider hardship to U.S. citizen or permanent resident children when deciding whether to deport a parent.

To overcome guardianship fear and lack of knowledge, permit the Centers for Medicare and Medicaid Services to allow non-parental relatives and public school staff to enroll children who are citizens in federally-funded programs, such as State Children's Health Insurance Program and Medicaid, and the U.S. Department of Agriculture to do the same for the Supplemental Nutrition and Assistance Program, across all states.
2.
Reduce the federal government's reliance on programs that needlessly target immigrant families. Specifically, we recommend that the Department of Homeland Security (DHS) reform its programs and policies related to detention and deportation as follows: read more
End the 287(g) program and partnerships between its immigration officers and state and local law enforcement agencies and significantly modify the Secure Communities program to only focus resources on people who pose a threat to national security.

Continue to apply agency-wide discretion to the prosecution of backlogged and new immigration detention cases to not deport parents who have children under the age of 18 and are citizens.

Use secure alternatives, including electronic monitoring and case management services, if detention is deemed necessary following an individual assessment. As is in the proposal, expand the use of Alternatives to Detention, such as community support programs, to ensure compliance with immigration cases in an effective, economical and family friendly manner.

Continue to collect and publicly release data on the number and characteristics of parents of U.S.-born citizen children in U.S. Immigration and Customes Enforcement (ICE) custody and deported.
3.
The Department of Homeland Security and other relevant federal agencies should put into place programs and policies that protect the health and well-being of children whose parents or primary caregivers are undergoing detention and deportation proceedings. This should include: read more
As has been legislated in California, a mechanism to preserve the parent-child relationship, including allowing apprehended parents and primary caregivers access to phone calls to make childcare arrangements.

Coordination between DHS, Health and Human Services, and specifically the Administration for Children & Families, to implement protocols and issue guidance to ensure parents are able to fulfill child welfare case plan requirements and participate fully in family court proceedings when parents are in custody or after deportation, as proposed in the Senate immigration reform bill and the HELP Separated Children Act (S. 1399/H.R. 2607, 112th Congress).

Issuance of guidance and oversight and sensitivity training for DHS personnel responsible for enforcement to reduce trauma to children when performing immigration-related arrests in their presence.
4.
As has been legislated in California and as included in the Senate proposal, state child welfare plans should include policies to promote the reunification of children in the child welfare system with parents and legal guardians who have been detained or deported, including authority to delay filing for termination of parental rights until certain conditions have been met, ensuring that children are placed with relative caregivers whenever possible regardless of immigration status, and to assist parents and legal guardians in making arrangements for their children prior or after removal.
"My life would be different for the reason that I would have the opportunity to achieve my dreams…to go to school, to drive a car without the fear of being stopped and possibly deported one day. I don't know what my family would do without me."